Blog
Wedding Spotlight: Sadie + Joseph
Come along to historic Gainesville, GA to enjoy a bright summer wedding at The Chair Factory. Sadie and Joseph's wedding featured a colorful floral palette, light blue details, and all the warmth and elegance you could want for a June wedding. From the sweet ceremony to the lively reception and send-off, this couple and their guests created a beautiful experience to remember for many years to come.
Let's talk about the details!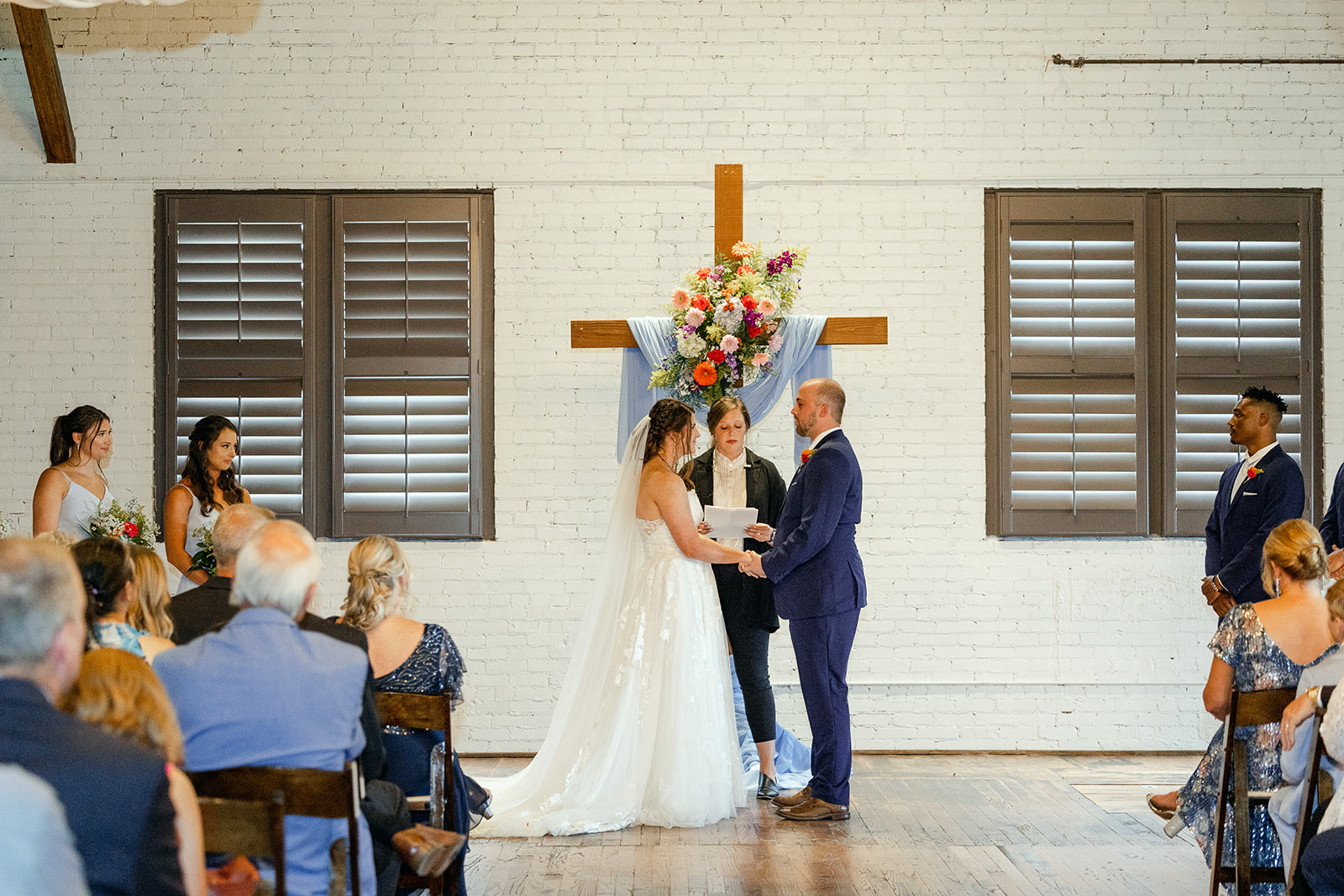 Table Decor
Because Sadie and Joseph had a lengthy guest list, we used a combination of long rectangular and circular tables to comfortably accommodate all the guests. Leaning into the light and breezy summer feeling, the table decor featured wildflowers, white candles with crystal votives, and stunning tableware.
For the long tables – which included the bride and groom, wedding party, and close family – the floral design featured mini glass bottles with wildflowers, creating a simple yet stunning look. The pops of pink, purple, blue, and red added cherry brightness to this lovely reception. To finish off the table decor, they chose a combination of tall and short glass candlesticks and votives with white candles. For the tableware, we stacked a clear, gold-rimmed charger with white china plates. We then completed the design with a light blue cloth napkin, gold utensils, and crystal glasses.
For the circular tables, we used a variety of arrangements for added visual interest. This included small box arrangements, more mini glass bottles, and small floral arrangements in vases. We then completed each look with more candles and votives, white china, napkins, and crystal glasses.
Each element of the reception table decor complemented Sadie and Joseph's amazing wedding color palette while incorporating the brightness of summer.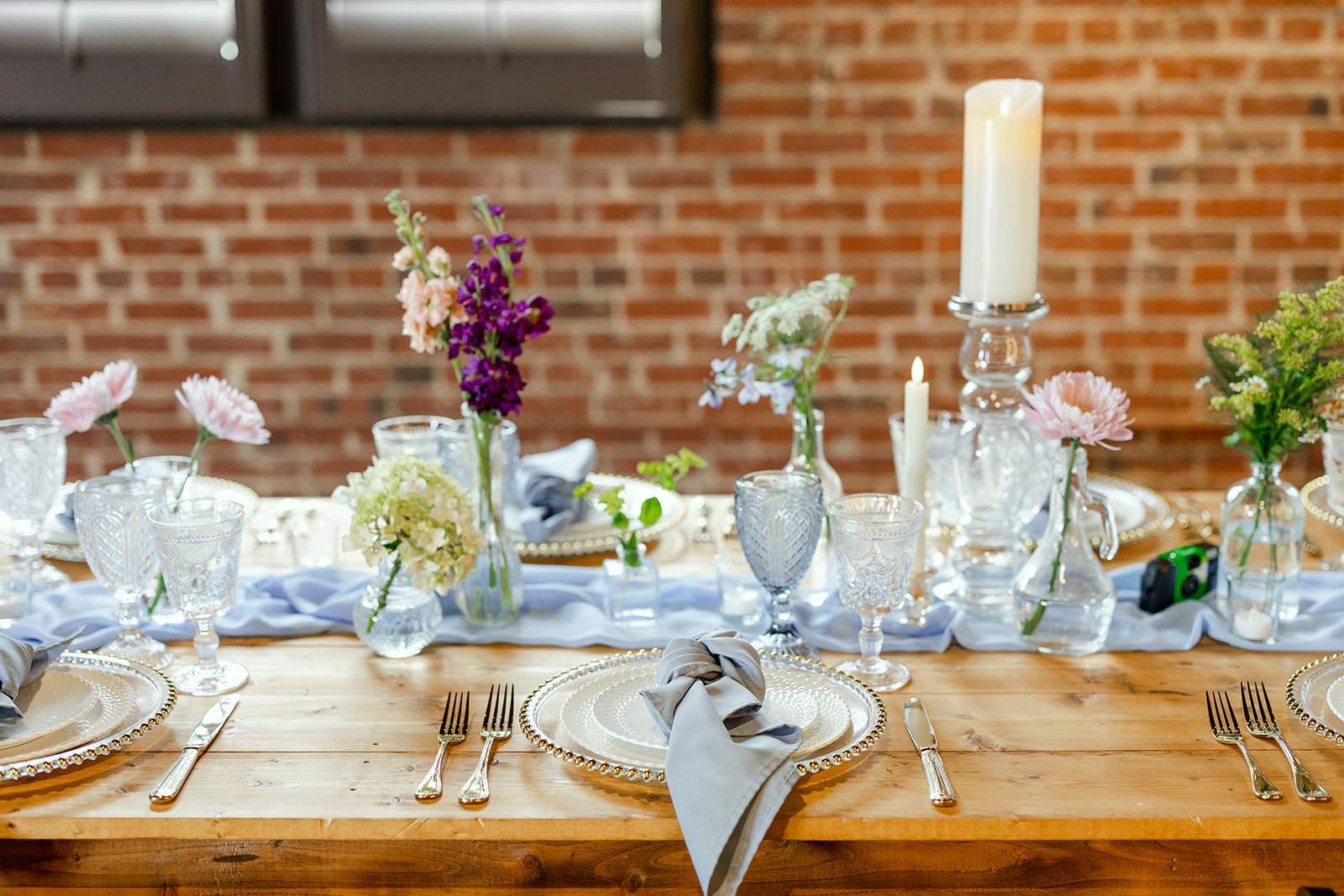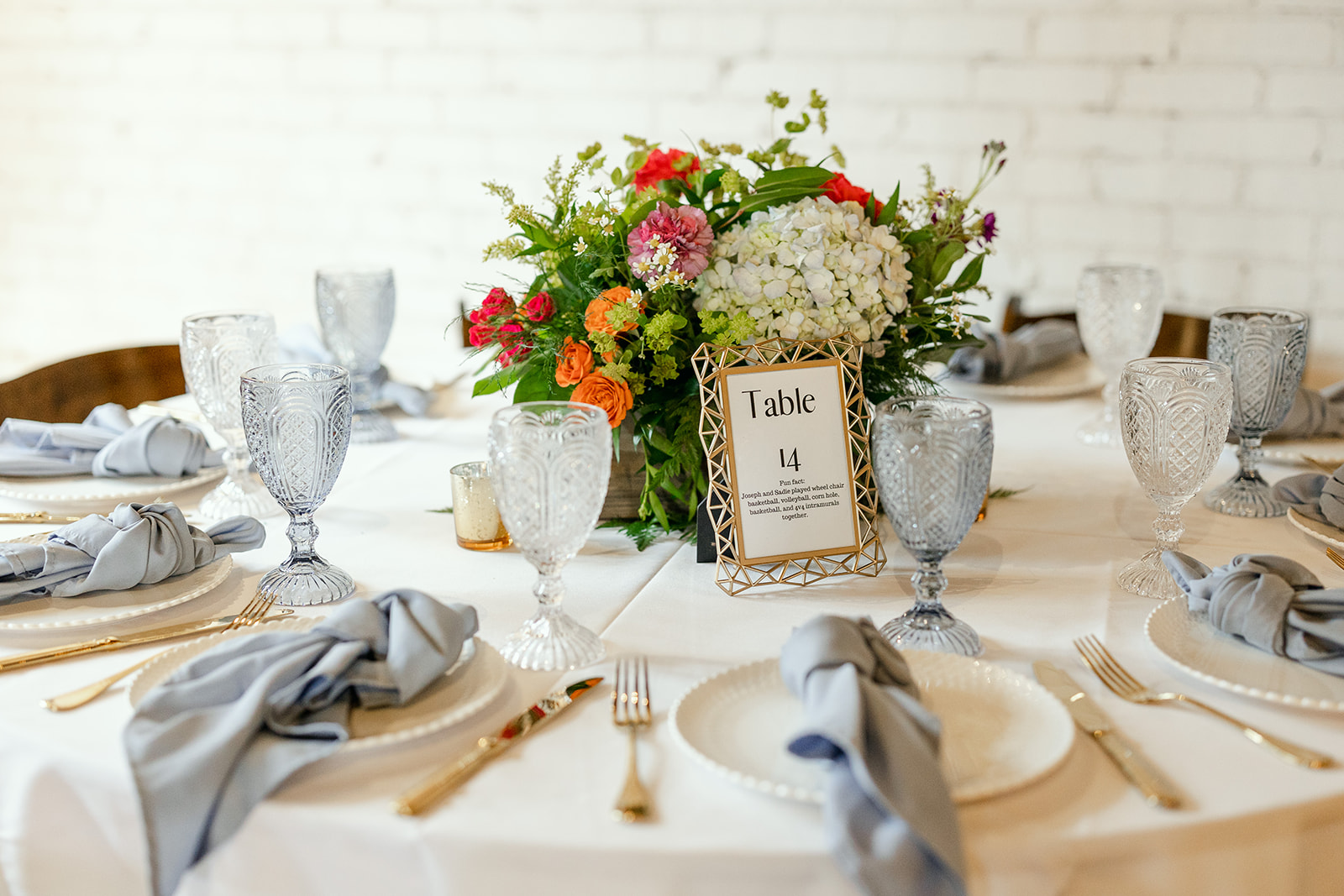 Cake and Desserts
For their wedding desserts, Sadie and Joseph chose a combination of traditional and non-traditional selections. Their wedding cake was a beautiful, two-tiered white cake with gorgeous real flower decorations. Then they upgraded their dessert offerings with chocolate mousse cups and strawberry cupcakes.
For another twist on wedding desserts, they had King of Pops cater. Although King of Pops has dozens of unique flavor combinations, Sadie and Joseph chose Verry Berry, Pink Lemonade, Peach, Key Lime Pie, and Chocolate Sea Salt. This brought a fun and summery twist to their cocktail hour and reception.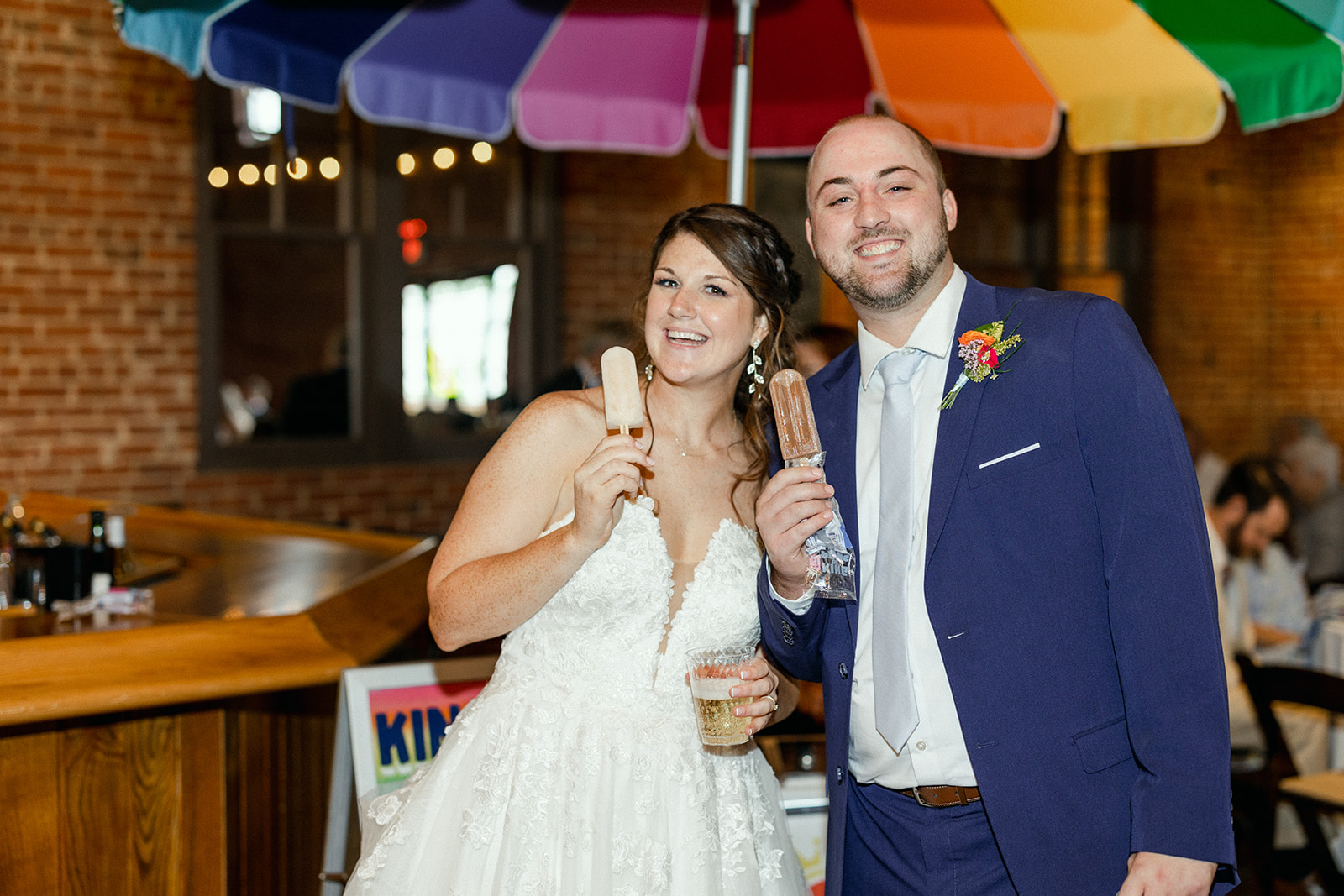 Flowers
One of the most stunning elements of this beautiful wedding was the bouquets and boutonnieres arranged by The Floral Hen. The bouquets featured a variety of colorful wildflowers, mini roses, carnations, and bright greenery. The bridesmaids' bouquets included a similar design to complement their light blue dresses.
For the boutonnieres, The Floral Hen crafted another cheery design with mini roses in tangerine and red with springs of wildflowers. This pop of color was the perfect addition to the navy suits and light blue ties.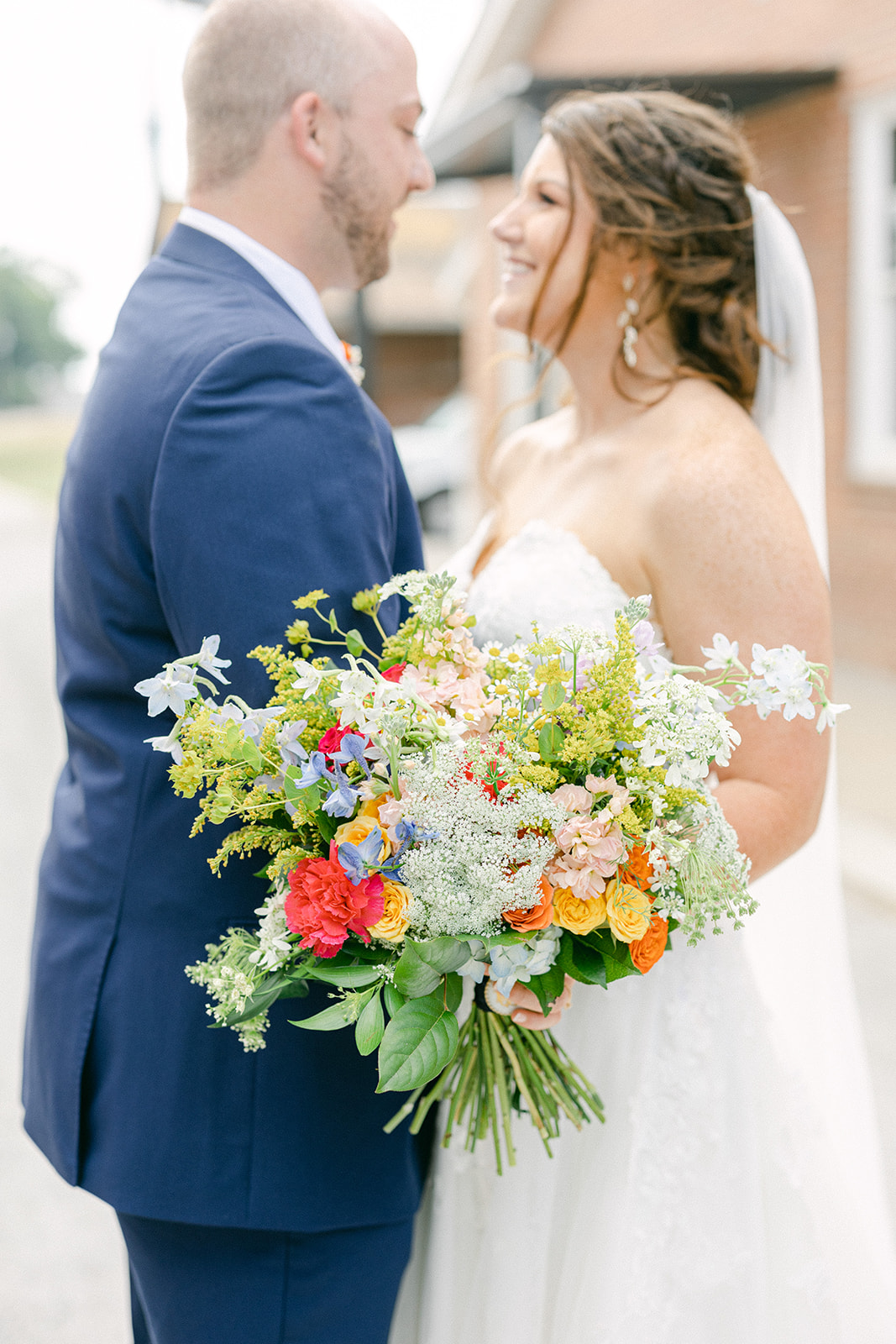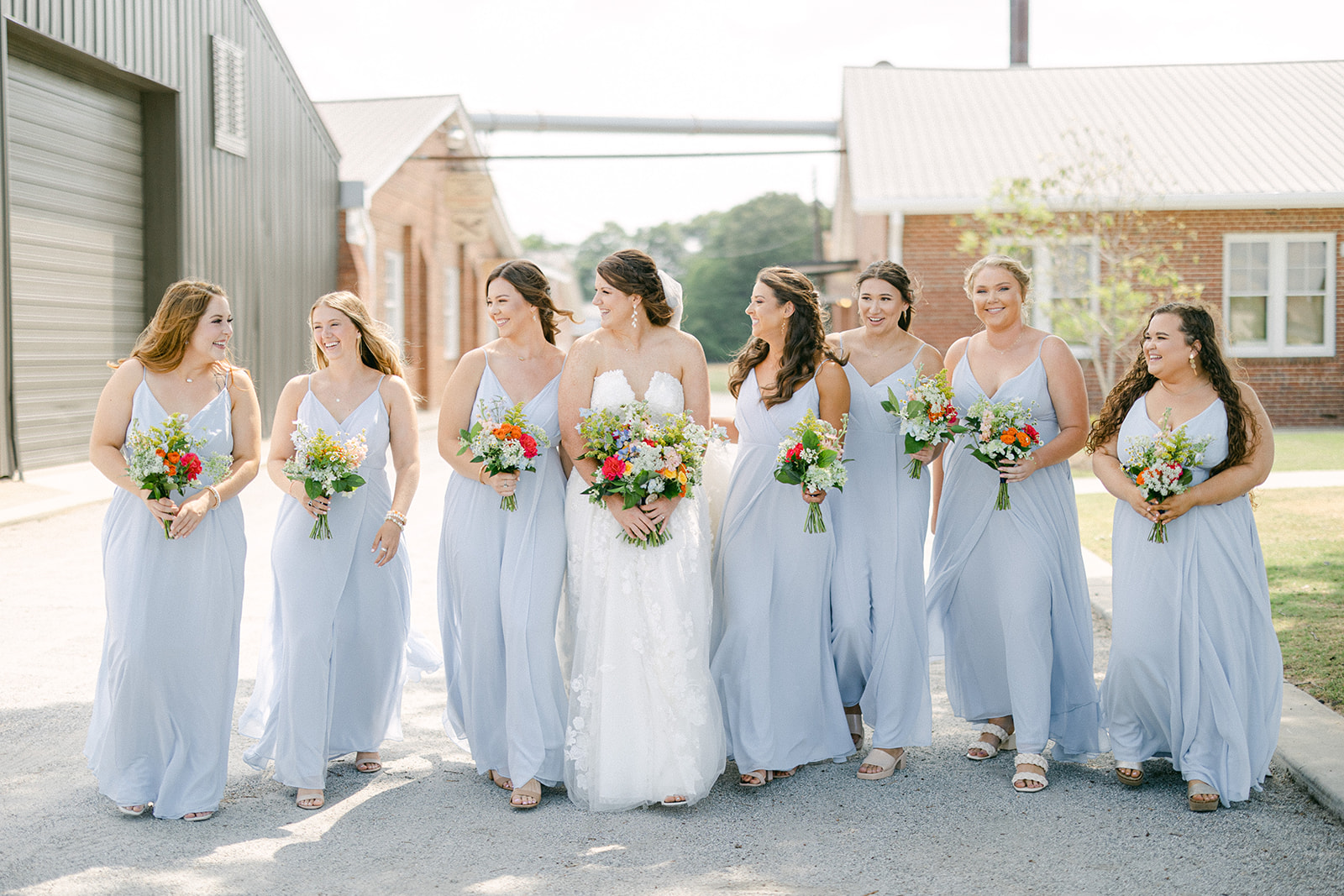 Summer Wedding Trends
Bright Colors
One major summer wedding trend – that Sadie and Joseph beautifully embraced – is a bright color palette. Beyond just colorful flowers, though, many couples are also using patterned fabrics, illustrations, and unique floral concepts for their invitations, attire, and wedding decor.
Charcuterie Boards
Charcuterie boards have been trending for several years – and they are not going anywhere. This is a great choice for cocktail hour that allows guests to snack on their favorite meats, cheeses, nuts, and fruits while you complete your pictures. Plus, it's a wonderful light food option so guests don't get bogged down in the summer heat.
Private Last Dance
After a hectic wedding day, a private last dance is the perfect respite to allow you and your groom to savor the day with a moment alone. As your guests line up outside for the send-off, have the DJ play your favorite song and enjoy the intimacy of your quiet reception space.
Specialty Vendors
Gone are the days of basic wedding cakes and entertainment. Now specialty vendors are the way to go to create a memorable wedding for you and your guests. Food trucks, ice cream or pretzel stations, and caricature artists are just a few of the options available!
Vendor Credits
Photos: Darian Reilly
Flowers: The Floral Hen
Venue: The Chair Factory
Want to Host Your Wedding at The Chair Factory?
Did our wedding spotlight for Sadie + Joseph wow you? Are you ready to learn more about hosting your wedding at The Chair Factory? Download our Wedding Pricing Pamphlet or book your venue tour today! We would love to help all of your wedding dreams come true.
---
‹ Back