Blog
8 Amazing Wedding Cake Alternatives
Yes, tall, white wedding cakes are a beautiful thing, but are you looking for a unique twist for your special day? Wedding cake alternatives like cupcakes, brownies, and cookies are a great way to add modern flair to your wedding and wow your guests with an unexpected treat.
Check out these top eight wedding cake alternatives! Then explore some local North Georgia bakeries that can make all your wedding dessert dreams come true.
8 Wedding Cake Alternatives
Cupcakes
If you love cake but want added convenience for your guests, cupcakes are the most popular wedding cake alternative. Keep to the classics like vanilla, chocolate, and red velvet, or wow your guests with some unique flavors like caramel, tres leches, or coconut. Or get a dozen of each and let your guests decide!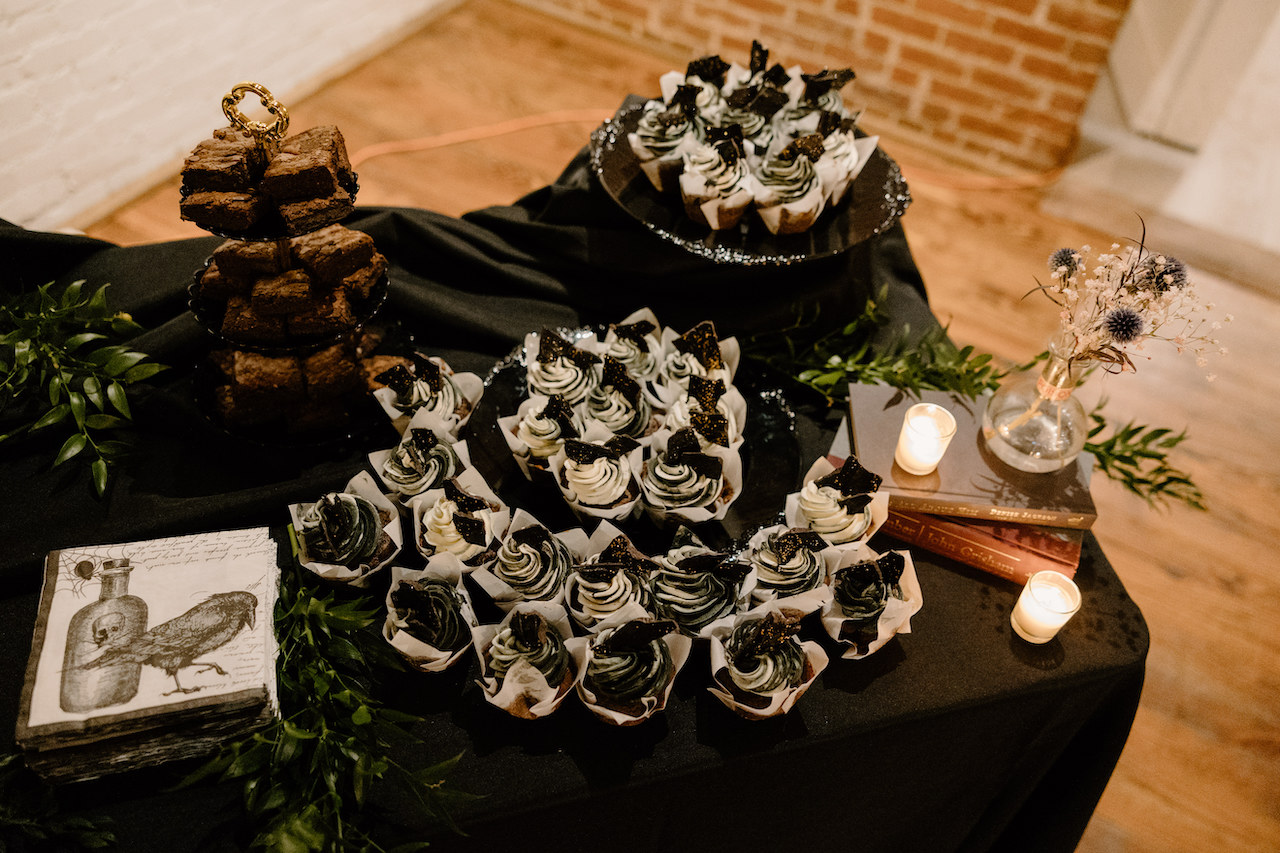 Mini Pies
An unconventional choice, mini pies add Southern charm to your wedding with delicious flavors like apple, pecan, or strawberry rhubarb. Baked in mini tins and complete with a tiny pie crust but a generous filling, mini pies are sure to be a crowd-pleaser.
Popsicles
Are you looking for a unique way to cool down your summer wedding? Serve popsicles! Your guests will love this unique wedding cake alternative; they won't even miss the cake! Plus, with boutique popsicle makers, you can experience a wide range of incredible flavors like orange cream, strawberry lemonade, and cookies 'n cream.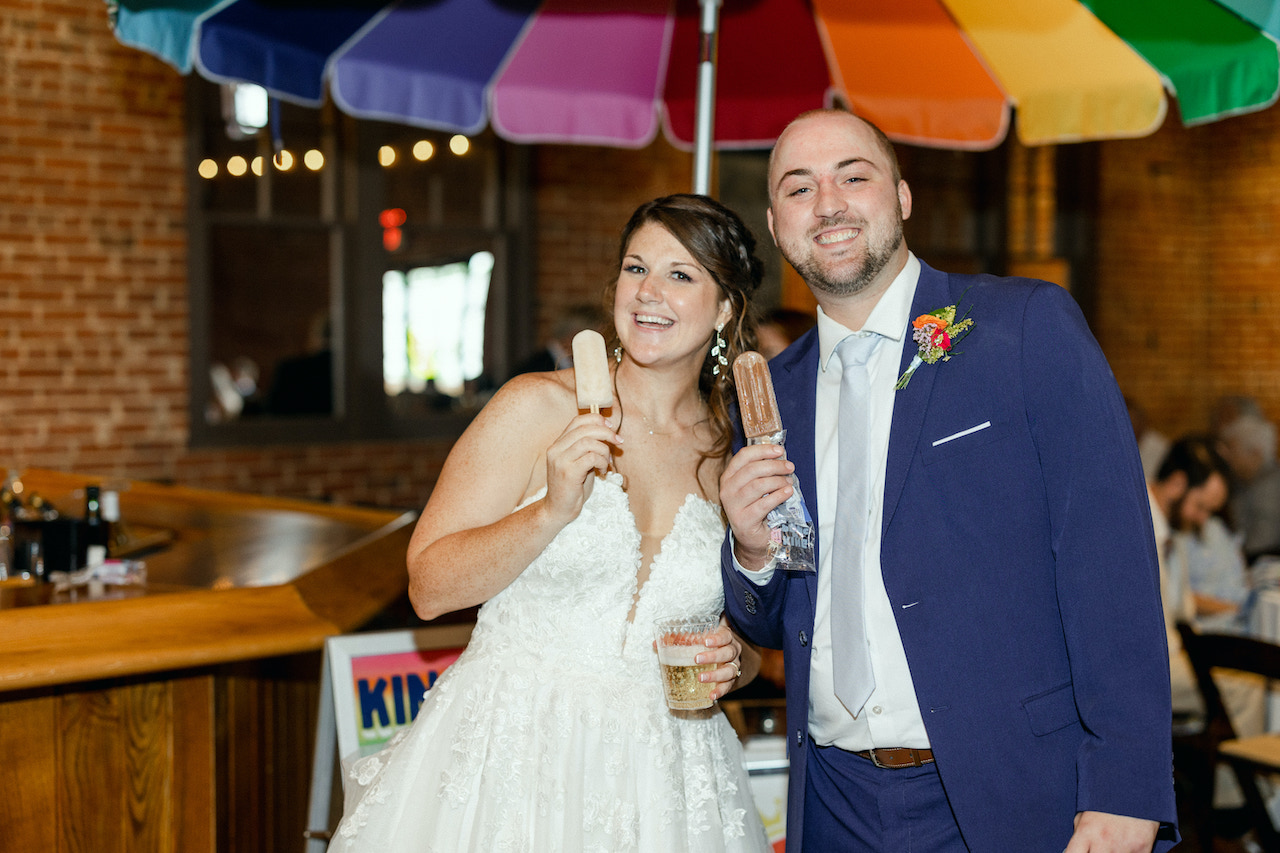 Pretzels
Salted or cinnamon sugar, mustard-dipped or plain, you would be hard-pressed to find someone that doesn't enjoy pretzels. So why not feature them as the main treat for your wedding? A pretzel wall or food truck serving them fresh is sure to wow your guests and have them leaving full and happy at the end of the night.
Brownies and Bars
Another affordable – and adorable – wedding cake alternative is brownies or bars (like blondies, pecan pie, and so much more). These treats are easy for guests to grab and enjoy as they party through your reception. You can even wrap these up for a delicious wedding favor at the end of the night.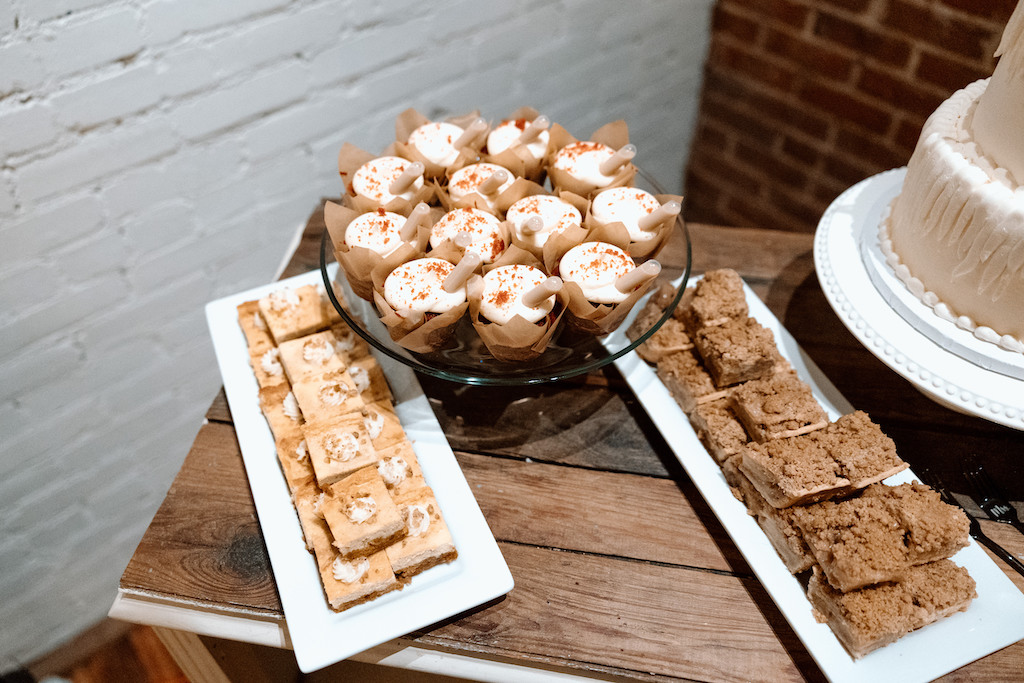 Cookies
If you're like us, nothing tastes quite as good as a cookie. So why not serve your favorite cookies at your wedding? Chocolate chip, oatmeal raisin, sugar… Need we say more? You can even have a milk and cookies bar to create a fun and relaxed atmosphere for your reception.
Pudding
Another unique wedding cake alternative is pudding cups in mini glasses. Chocolate mousse, banana pudding, tiramisu, let your imagination go wild! These light and delicious treats are a great option for summer weddings or to finish off a hearty reception meal.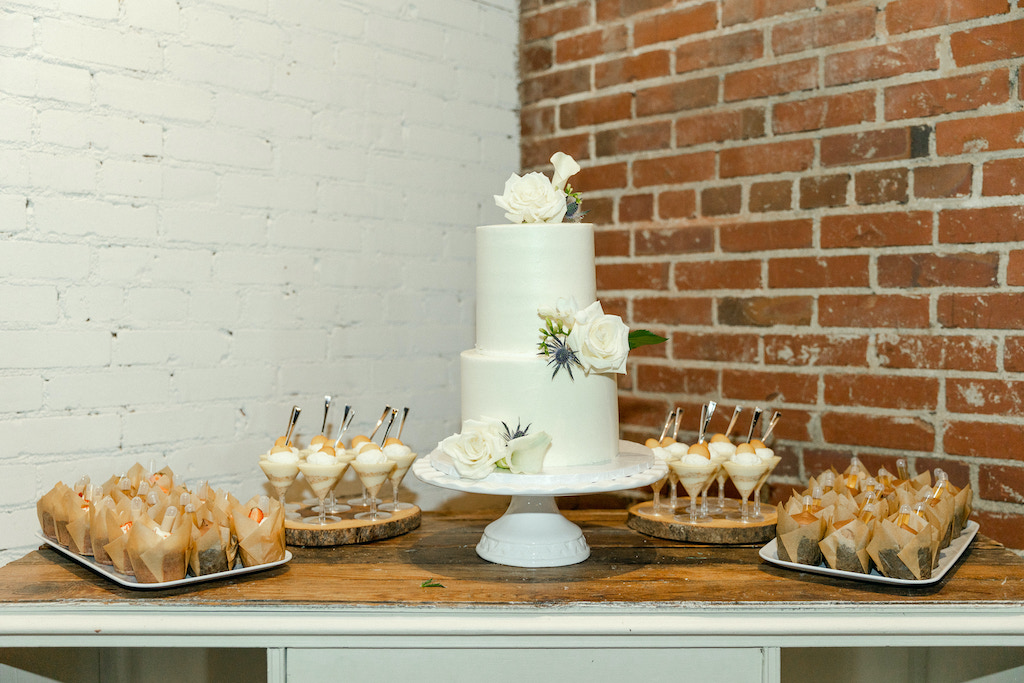 Donuts
A new favorite for wedding cake alternatives is a donut wall or tower. You can even elevate these humble treats into a donut wedding cake for a special twist on a classic favorite. Stack them high – mini or regular-sized, jelly-filled or glazed – and let your guests enjoy!
Our Favorite Local Bakeries
Dulce Designs by Suli
A crowd favorite at The Chair Factory, Dulce Design by Suli consistently delivers the most delicious wedding treats for all of our couples. From mini pies to cupcakes to puddings and bars, they have so many options – and you'll want to try them all.
Contact: 678-438-2332
Visit Their Website: www.sabrosaatl.com
Baked and Caked
Offering incredible cakes and cupcakes along with custom-designed cookies, Baked and Caked is a delicious, classic choice to delight your wedding guests. You'll love their amazing flavors like strawberry shortcake, s'mores, carrot, and over a dozen more.
Contact: 678-943-9589
Visit Their Website: www.bakedandcakedllc.net
Jamie Bakes
You'll be hard-pressed to find another bakery that offers custom cupcake options like Jamie Bakes. With nine incredible standard flavors and endless new combinations she's dreaming up all the time, you will absolutely love your wedding cupcakes from this great local shop.
Contact: 770-744-0155
Visit Their Website: www.jamiebakes.net
Zell's Cottage Bakery
Puddings, cookies, chocolate-dipped strawberries, macaroons… Zell's Cottage Bakery has even more unique wedding cake alternatives than our list even had time to mention! Plus the amazing typical choices for cakes and cupcakes. You'll love exploring their delicious treat options for your special day.
Contact: 470-729-CAKE (2253)
Visit Their Website: www.zellscottagebakery.com
King of Pops
If you want to make the most of a unique wedding cake alternative like popsicles, then King of Pops is the local spot for you. With their mini popsicle carts, they'll set up shop at your reception and serve your guests cold and delicious frozen treats in the flavors of your choice.
Contact: 470-621-1200
Visit Their Website: www.kingofpops.com
DaVinci Donuts
If you love donuts, then you'll love exploring DaVinci Donuts' incredible range of flavors. Top flavors include french toast, maple bacon, salted caramel, and classic sprinkles. Plus, with the donut's mini size, you can choose plenty of flavors and let everyone choose their favorites!
Contact: 706-974-8562
Visit Their Website: www.davincisdonuts.com
Explore Wedding Cake Alternatives with The Chair Factory!
Do you love these ideas for wedding cake alternatives? Then you'll love all the incredible options The Chair Factory has to offer with our all-inclusive wedding packages. Located near Downtown Gainesville, GA, The Chair Factory is a spacious historic wedding venue with an intimate yet industrial atmosphere.
We love helping couples find the best vendors for their special day from bakeries to photographers to DJs and so much more. Learn more about how we can curate your perfect day by contacting us to book a tour!
---
‹ Back